About Us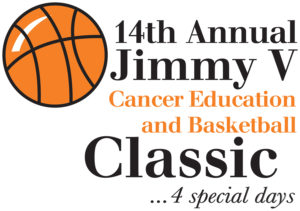 Dear Philadelphia Friends of V,
Last weekend's 14th Annual Jimmy V Cancer Education and Basketball Classic was another great, high energy and inspiring event.
Many thanks to the over 100 volunteers and supporters that allowed us to host over 40 teams and nearly 500 players…….Some of the many highlights include but are not limited to:
Recognizing this year's event honoree-the entire St. John's Community for all they have done and continue to do to support our Jimmy V events-Monsignor Prior's spot on remark's during Saturday night's dedication ceremony……Maria Parker's speaking to the good works of the SJE Youth Ministry group and CYO Athletic Director Mike McGill's remarks on ALL of the SJE Sports programs, their successes and the need for younger parents to get involved.
Tom Jusczak's and Matt Moonan's marathon efforts in managing all of the teams, volunteers, schedule in the months leading up to the event and then flawlessly facilitating all that is involved with over 30 games, speakers, dance teams etc. over 4 days.
Dino and Kathy DeIuliis handling the concessions, Memorial Wall AND Dino's message on what makes the St. John's community what it is and Kathy reinforcing the need to be diligent in timely, consistent check ups.
40 Spirit of Jimmy V Award winners being recognized by their coaches and teammates
Christine Porta-Heaton and her committee doing a great job of securing silent auction/raffle items and then managing throughout the 4 days.
Mary Jane Moonan handling the growing Little Friends of V Games as well as championing the John Rooney inspired education initiative with speakers and an education table.
Volunteer efforts of Lori Hahn's Jimmy V High School Alumni as well as our Adult Lead Volunteers and the CEC Softball, Girls Basketball and Football Teams; Pennsbury Gems U16 Softball Team; SJE Youth Ministry and Holy Ghost Prep Lacrosse Team.
Anne Gladwell once again scheduling nearly 40 referees wo all donated their time and talents to cancer research,
Long time DJ Patrick Lubey introducing teams, playing music non-stop and continuing to post 'I Don't Ever Give Up For _____' Donation Program certificates in the hallway throughout the event.
On behalf of the Philadelphia Friends of V Board, the above various Champions of the event we would like to thank all who attended and or supported this event which-once again-was '4 special days'.
Sincerely,
Philadelphia Friends of V