15th Annual Jimmy V Cancer Education and Basketball Classic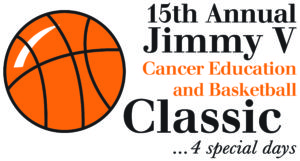 When: February 22, 23, 24 and 25 2018
Where: St. John the Evangelist Parish Center; 752 Big Oak Rd.; Morrisville, PA 19067
What: The Jimmy V Cancer Education and Basketball Classic is a high energy, fun and emotional event for the @ 50 teams; 500 players and over 4,000 people who attend what has become known as '4 special days'……players are introduced before the games; music is played throughout the games; high quality food; raffles and silent auction items up on the stage with the Jimmy V's famous 'Don't Give up…..Don't Ever Give Up' speech playing in the entrance throughout the event; Spirit of Jimmy V Awards given to deserving players on each team as well as speeches from people who have been affected by cancer.
During the past 15 years the Philadelphia Friends of V is proud to have donated over $300,000.00 to cancer research…….we have also impacted thousands of players, coaches, sponsors and spectators on the need for an positive impacts of cancer research.
If you want to get involved and or have any questions please contact Bob @ rmoonan@hibbertgroup.com or go to our website www.phillyfriendsofv.org