About Us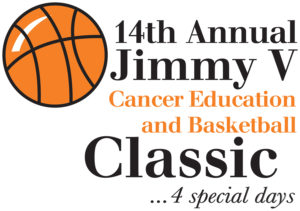 In February 2017 we will be celebrating the 14th Annual Jimmy V Cancer Education and Basketball Classic.
This event has exploded to what is now four days of games with @ 50 teams; 600 players that will be attended by over 4,000 people; DJ playing music; players being introduced before the games; Spirit of Jimmy V medallions being awarded to a deserving player on each team that participates; silent auction/raffle; concessions all with the intention on creating awareness on the need for an positive impacts of cancer research.
· The Jimmy V speech plays nonstop in the lobby throughout the event.
· The event is supported by well over 100 volunteers from local high school teams that donate their time for entire shifts during this event which has become known as 'Four Special Days'.
The cornerstone of this event however is that we make a very personal by recognizing and honoring local families and organizations that have been affected by cancer……. This year we are proud to recognize the entire St. John the Evangelist community for their generosity and commitment to helping realizing Jimmy V's vision of a cancer free world.
From our humble beginnings in 2004- which were four teams playing four games and with the Jimmy V speech playing in the lobby throughout the event; DJ playing some music and our recognizing the family of one of the players who had just lost her mother to cancer- $1,000.00 was raised for cancer research.
We have now raised over $300,000.00 for cancer research.
The dates of the event are February 23, 24, 25 and 26 2017. The schedule will be available on this website @ February 1, 2017.
Please stop by and see what makes the over 4 days and you will experience why all who attend 'Laugh, Think and Cry'.
If you have any questions or would like to know how you can help or get involved please contact bobm@phillyfriendsofv.org