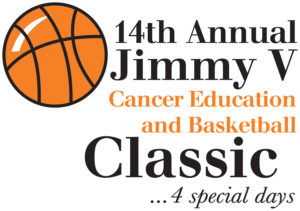 Coaches/Teams Information
1. Event Dates: Thursday 2/23/16 through Sunday 2/26/16
2. Overview: The Jimmy V Cancer Education and Basketball Classic is a high energy, fun and emotional event for the @ 50 teams; 500 players and over 4,000 people who attend what has become known as '4 special days'……players are introduced before the games; music is played throughout the games; high quality food; raffles and silent auction items up on the stage with the Jimmy V's famous 'Don't Give up…..Don't Ever Give Up' speech playing in the entrance throughout the event; Spirit of Jimmy V Awards given to deserving players on each team as well as speeches from people who have been affected by cancer.
Every year we also dedicate the event in support of a local person, family or organization that has been either impacted by cancer or supports cancer initiatives. This year's event is recognizing the entire St. John the Evangelist Community for all that they have done to support our Jimmy V events during the past 14 years.
3. Key Info for Coaches/Team
A) T-Shirts: Your team's T-shirt's from your T-shirt sponsorship are located at the Jimmy V Apparel table in the back of the gym. Please go there and ask for your team's T-shirts.
B) Schedule Link-see below for schedule link.
C) Event Location: St. John the Evangelist Parish Center; 752 Big Oak Road; Morrisville, PA 19067
D) Your game:
You should have already been notified about the day and time of your game. Please note that there is a chance that we may have to switch your game due to rescheduling required because of the overall needs of the event.

You will be notified in the event that the day and time of your game changes.
It will be your responsibility to also check the below link to the schedule to confirm the date and time of your game.

Please arrive 30 minutes prior to the time of your game. When you arrive ask for the 'Event Coordinator' who will brief you on the logistics of the game.
Your team will be introduced before the game:

You as the coach can introduce your players or if you prefer hand the DJ a list of all players to be introduced and he will handle.
After the introductions all players that participated in the 'I Don't Ever Give Up For ______' program will be recognized by the DJ for their efforts in the fight against cancer.
You will have the opportunity to award a 'Spirit of Jimmy V Award' medallion to a deserving player on your team. This will be done after your team has been introduced.

All games will be four 10 minute quarters running time.
The DJ will be playing music throughout your game.
Throughout the event there will be speakers, dance team and cheerleader performances. These events occur before or after games.