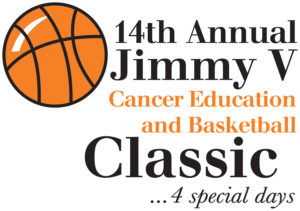 Congratulations and we are excited to have your child/children participate in the "Little Friends of V Games" which be held on Saturday morning February 25, 2017.
Please fill out the registration form below.
You will be contacted in early February with the specific timing for the event
For any immediate questions please contact Mary Jane Moonan (mjmoonpa@gmail.com or 267-994-4024)
One of the cornerstones of our Jimmy V events is keeping it personal and educating all who participate in the need for and positive impacts of cancer research. With that in mind once you register you will be directed to the "I Don't Ever Give Up For ______" program where you have the option for your child to 'play' for a family member or friend that has been impacted by cancer if you so wish.
(Please note that the 'Little Friends of V' event is limited to only children/grandchildren that are not already playing in the event and have parents that are involved with the event)
To donate by check please make checks out to Philly Friends of V and mail to Patrick Lubey, 107 Independence Drive, Morrisville, PA 19067