About Us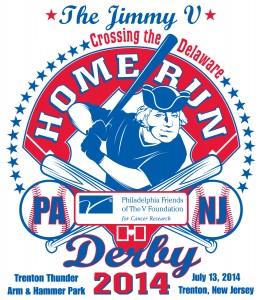 We are proud to announce that applicants will be notified the week of June 15, 2014 that they been selected to participate in the Jimmy V Penn-Jersey Home Run Derby. Please check back on the website shortly and we will have a complete listing of all players.
 Featuring the best high school sluggers from both states competing
for scholarships and, of course, bragging rights for their state!
Trenton Thunder's Arm & Hammer Stadium will be the venue for this premier
event, created by some of the best baseball minds this area has to offer.
Players will be nominated by area coaches, from which the board will select
the top high school sluggers in the area.
This will be a great event for our kids, for our community and for our game
while raising money to fight a disease which, sadly, has already touched too many of our lives.
We are proud to have you join us!
General Information: Larry Warren larrywarren@verizon.net or 215-669-2725
Sponsorship Information: Frank Dragoni fdragoni@aautofunding.com or 215-208-8844
Ticket Information: Jonie Naylor jonien@phillyfriendsofv.org