About Us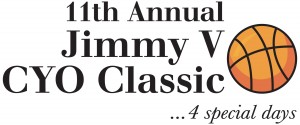 The 11th Annual Jimmy V CYO Classic was a tremendous success! Donations are still coming in and we will report the final total within the next week.
We once again exceeded the following original two goals that we had when we started 11 years ago:
1.    Provide our players the opportunity to play together as a team one last time in a fun, pressure free environment.
2.    Impress upon all who attend the need for and positive impacts of cancer research.
We achieved those goals this year by recognizing survivors and surviving families of cancer victims…….14 different survivors either spoke or were recognized before games and many families were of past honorees…….their words and presence was a powerful statement that cancer research works and that what we do every year during our '4 special days' is important and that as a community we remember and continue to offer support.
There were many highlights which include but are hardly limited to:
450 players being introduced before their games to smiles and cheers.
48 players being awarded the coveted Spirit of Jimmy V award by their coaches.
Recognition of ongoing efforts of surviving families to honor the memory of their family member or friend lost to cancer
The non-stop music and fun during the four days of action.
Over 100 items well displayed and laid out on our silent auction stage.
The constant presence of our Jimmy V High School Alumni throughout the four days.
Wide variety of high quality food.
Remembrance Wall honoring 'Survivors'
One of the other successes of this event was evident from the amount of people that showed up all 4 days! From the current players, to high school and college alumni who played in the past, to the adults and parents who no longer have players actively participating in the event-they all came back.
In order to pull off a four day event attended by well over 4,000 people requires support and commitment from dedicated champions and volunteers. Below is just a partial listing of the well over 100 volunteers that made this year's Philly Friends of V CYO Classic event happen:
Honoree Coordinator and DJ: Patrick Lubey
Silent Auction/Raffle Stage:  Karen Kelbaugh and Gina Horan; Kathy Higgins; Linda Carl and Jonie Naylor
Memorial Wall and Concessions:  Kathy and Dino DeIuliis
Overall Event Coordinator: Jonie Naylor
Jimmy V Alumni:
-High School Alumni: Lori Hahn
-'Original' Alumni:  Kaity Moonan, Lauren Diveglio and Colin Rooney
Referees: Anne Gladwell
Schedule and the Coaches and Special Olympics Game: Tom Jusczak
Donation Management: Floyd Carl and Christine and Wayne Heaton
All St. John's CYO Basketball Coaches
Jimmy V DVD: Rita Dapkey
Apparel: Kaity Moonan
High School teams and organizations that volunteered for entire shifts:
-Jimmy V High School Alumni
-Pennsbury Softball
-St. John's Youth Ministry
-Hun Softball
-Villa Joseph Marie Basketball and Soccer
-Conwell-Egan Catholic Softball, Girls Basketball, and Football
We would also like to thank Monsignor Prior and the St. John's staff for their generosity with the use of the St. John's Parish Center and all that they did to support this and every year's Philly Friends of V event.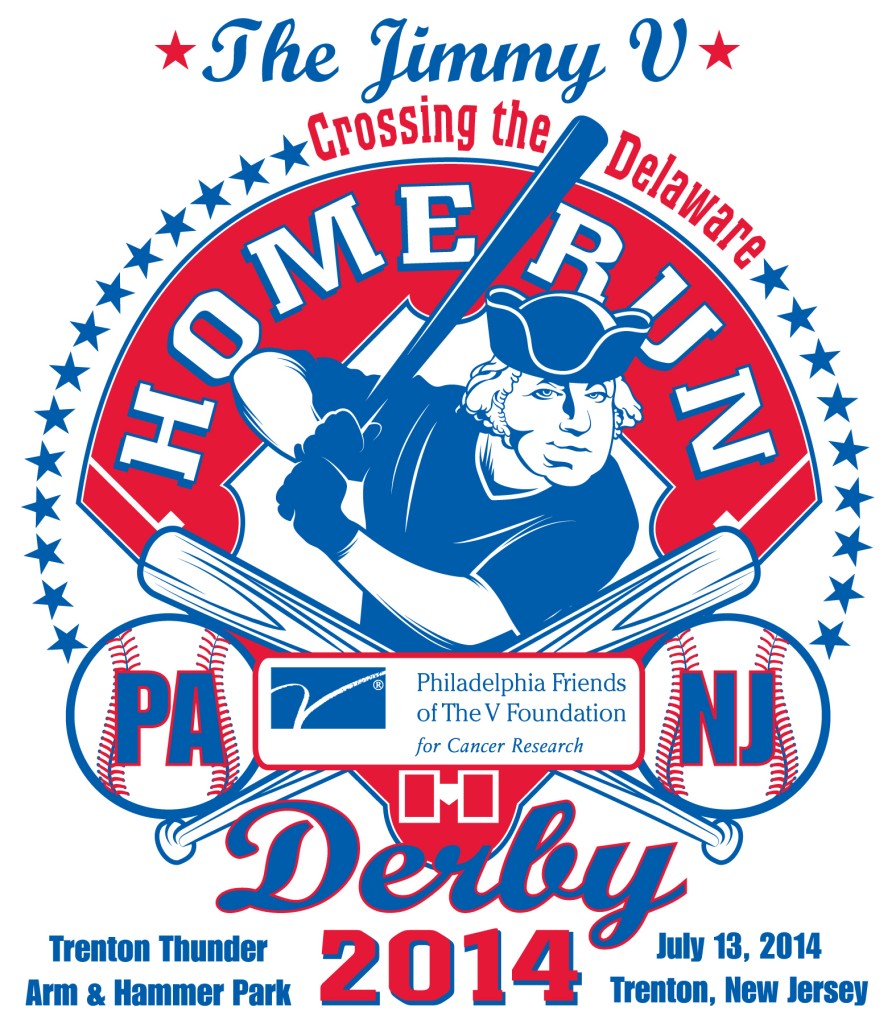 Featuring the best high school sluggers from both states competing
for scholarships and, of course, bragging rights for their state!
Trenton Thunder's Arm & Hammer Stadium will be the venue for this premier
event, created by some of the best baseball minds this area has to offer.
Players will be nominated by area coaches, from which the board will select
the top high school sluggers in the area.
This will be a great event for our kids, for our community and for our game
while raising money to fight a disease which, sadly, has already touched too
many of our lives.
We are proud to have you join us!
General Information: Larry Warren larrywarren@verizon.net or 215-669-2725
Sponsorship Information: Frank Dragoni fdragoni@aautofunding.com or 215-208-8844